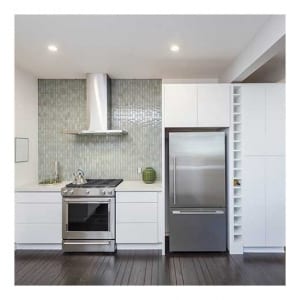 Things to Stock in Your First Apartment Kitchen
Things to Stock in Your First Apartment Kitchen
You've done it! You've moved out on your own for the first time and you have your first apartment. It can be a daunting experience because of any number of reasons, especially after you move in. Now that you have all of your things in the apartment it is time to start making it a home. A great place to start is the kitchen.
The thing is, you may not know what you need in your new kitchen. Here are a few ideas for what you need in your first kitchen to make many great meals.
Boning Knife
Every kitchen needs a good knife that is also versatile. A mid-sized boning knife can serve many purposes. It can slice and dice fruits and vegetables as well as meat. Boning knives can serve a variety of purposes across many food groups. They are a great prep tool for any meal. If you want to save space by having just one knife this is the choice to go with.
Saucepan
The saucepan is the do-everything utensil in every kitchen. The common size is three-quarts, but going with a five-quart saucepan can also work. These pans can be used soups, sauces, hot cocoa, or even a frying pan if needed. As long as they have oven-safe handles you can even use them for roasts and more.
Measuring Cups
These are essential devices for almost any time of cooking, but especially for baking. Stainless steel measuring cups are the best choice. If you select plastic cups they can break easily, while stainless steel cups are durable and can even last in the dishwasher.
Mixing Bowl
When it comes to mixing bowls, the larger, the better. It is easier to use a large mixing bowl for small tasks than a small mixing bowl for large tasks. If cost or space is an issue a large mixing bowl is the way to go because it is one tool for many purposes. If you can get a tempered glass bowl it will be even more durable.
Spatula
Rubber spatulas are hygienic and they last longer than a traditional wooden spoon. They also work well with hot saucepans. Their flexibility allows you to scrape ingredients out of bowls so nothing goes to waste.
These are just five tools, but they are great for stocking your kitchen and getting life in your new apartment off to a great start.
The post Things to Stock in Your First Apartment Kitchen appeared first on Apartments For Us.