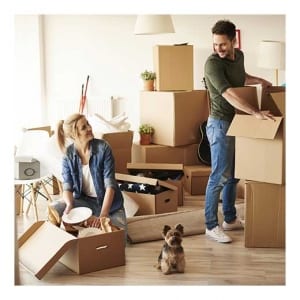 You've done it! You have finished all the hard work of scouting for a new apartment and found the place that has everything you're looking for. You've signed your lease and there is only one last step to complete. Unfortunately, it is one of the toughest, because moving is never easy.
Moving is never much fun. While you weren't looking it seems as if all of your possessions have multiplied. It also probably won't fit in your car in just a couple of trips. Many people look into renting a moving truck for this, but sometimes you can get by without renting a truck. Here are some things to consider if you want to try going without a moving truck.
Can it be Done?
If your new apartment is your first home and you only have a few possessions you might be able to pull off moving without a truck. It also depends on how far you're going, too. Moving across town can be done fairly easily if you can get friends and family to help. They can also be bought off with the promise of food and beer when the job is done. Moving across the state without a truck is trickier.
The amount of time you have to move is also important. If you have a few weeks you can make several small trips over time with maybe a day or two for some of the bigger items. If your time is limited, however, a truck will save on time since you can carry more in one trip as opposed to several smaller trips.
Do You Have the Equipment?
This also ties in to what you're moving. Packing blankets, dollies, and other such things are often included in the truck, but if you don't have access to these yourself it can be harder to move large, bulky items.
Most people also prefer moving trucks for large items such as mattresses and furniture. These are really hard to move in a standard car, but if you have friends or family with a pickup this is the best way around the bulky item question.
Can You Even Drive a Moving Truck?
Driving a large, bulky moving truck is vastly different from a regular car. It takes some getting used to and you'll have to watch turns, overpasses, and much more. If you do choose to rent a truck you might have to pay separately for insurance, too. Your regular car insurance often will not provide coverage for moving trucks.
If these are questions you have satisfactory answers to, then have at it. A move can be done without a large moving truck and you can probably save money in the long run if you choose this option. The downside is that it can be a lot of hard work that you may not be ready to tackle. If you do choose to rent a truck after all make sure to read if the mileage is covered in the rental and how much fuel you have to leave in it as well.
The post Moving Without a Truck appeared first on Apartments For Us.