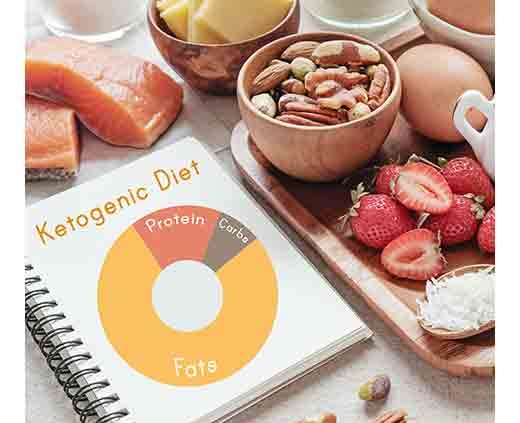 It's all the rage these days: the ketogenic, or "keto," diet. It tells you the ideal diet is the opposite of the food pyramid, which makes grain and carbohydrates the staple of a healthy diet. According to the Harvard Medical School blog, the "ketogenic diet is not something new. In medicine, we have been using it for almost 100 years to treat drug-resistant epilepsy, especially in children." Continuing, the Harvard blog explains the diet succinctly:
"In essence, it is a diet that causes the body to release ketones into the bloodstream. Most cells prefer to use blood sugar, which comes from carbohydrates, as the body's main source of energy. In the absence of circulating blood sugar from food, we start breaking down stored fat into molecules called ketone bodies (the process is called ketosis). Once you reach ketosis, most cells will use ketone bodies to generate energy until we start eating carbohydrates again. The shift, from using circulating glucose to breaking down stored fat as a source of energy, usually happens over two to four days of eating fewer than 20 to 50 grams of carbohydrates per day."
Because this diet moves away from carbs, each meal contains more fats and proteins than a typical meal. There is, of course, no restriction on vegetables with this diet, but it is emphasized that the main source of energy come from fats rather than carbs. That's what sets the ketogenic diet apart. As a result, people on this diet utilize oils to cook foods more regularly. And Dr. Cate Shanahan, a biochemist from John Hopkins University, provides a useful list of good and bad oils to use for cooking.
So is the ketogenic diet good? Dr. Eric Westman, director of the Lifestyle Medicine Clinic at Duke University, is summarized by Time Magazine as reporting it "can help reduce appetite, spur weight loss and improve markers of heart disease." Dr. Westman's studies also suggests that "a ketogenic diet can help treat obesity, type-2 diabetes and fatty liver disease."
The main risk with the keto diet is confusing good fats with bad fats, and eating too much processed foods, which have been linked to an increased risk of cancer. As with any change of diet, you will want to approach with caution, consult with your doctor, and thoroughly research the keto diet if you plan to jump on the bandwagon.
The post What is the Keto Diet? appeared first on Apartments For Us.