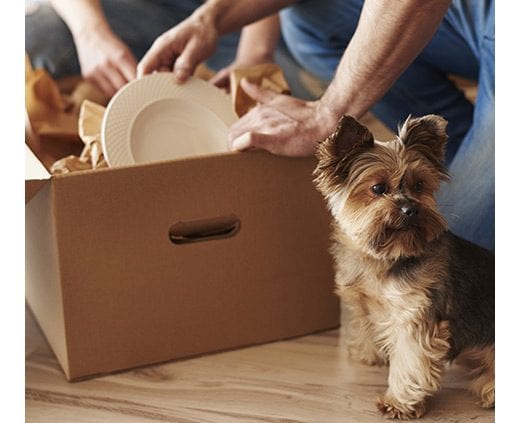 Tips for Moving with Pets
With all the boxes, fragiles, and furniture you'll pack into the moving truck, it's easy to lump your pet's belongings with everything else. But your pet's belongings are key to comforting your pet during this time of change. As you think about moving, don't forget your pet. Below are two important pieces to making the move with your pet as smooth as possible.
The Vet
Before you move, you'll want to make sure you have your pet's vaccination records, especially if you're moving to an apartment. If you schedule a check-up with your pet you can get any records your missing and, more importantly, you can check the state of your pet's health to ensure it can handle the stress of moving, especially if the move covers a long distance. Some vets will even provide a sedative. If you haven't yet, be sure to schedule a vet checkup before your move, so that you will have all the relevant information on your pet, including its current state of health, and any extra tools that might make the move easier.
Your Pet's Belongings
Moving day can be as stressful for your pet as it is for you. In the rush to move everything, you might be tempted to just throw all your pet's toys and beds into a box and move them out with everything else. This will only exacerbate your pet's anxiety. Your pet's belongings have its scent, and this scent is an important signal to your pet that they are in a familiar place. When things get stressful, your pet will look for familiar things and places to comfort it. Taking your pet's belongings away at the beginning of the move will make a bad situation worse, as it will leave your pet without the comfort of familiarity. Confine most of your pet's things to a room and leave your pet with them while you move everything. This will help ease the transition to the new place.
While comforting your pet in a time of change, your pet's belongings will also play an important role in introducing it to its new home. Introduce your pet to its new home by furnishing a room with its belongings, which already contains it scent, so that the new environment will already contain elements of familiarity. This will reduce the shock of transition and create a welcoming environment in a new space.