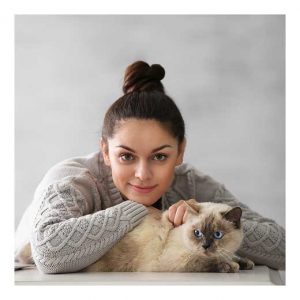 Apartment Living with Energetic Cats
Cats have taken over in some apartment communities. This is no accident. As independent, and somewhat aloof creatures, cats basically take care of themselves, given enough food and water. People who like to travel find this autonomy of cats convenient. Left alone too much, however, cats tend to become rambunctious.
Many have found even cats can be destructive to property. This kind of destruction seems inversely related to physical activity. When the yarn ball unfurls, or the toy mouse doesn't zig-zag on the floor, your cat is going to need some attention. Whether you play with your cat or not, it needs to burn energy somehow.
This may translate into plucked couches or torn curtains. Take some time out of your day, maybe five or ten minutes, to keep your cat entertained, and let it burn some energy to indulge its instinctual drives. To reduce destructive behavior get a scratch post for them to use. Sometimes it is best to have a scratch post for each room. Anti-scratch tape, generally furniture friendly, also does the trick. Cats abhor the adhesive texture. And, if nothing else, during commercial breaks use a laser to imitate the prey-predator hunt.
Cats are independent, but they've also adapted to rely on play for exerting energy and satiating intense instinctual drives. Give your cat a little bit of time each day, and you'll find its levels of destructive behavior will decrease dramatically.